We Welcome you to Outside2Inside!
Welcome to Outside2Inside Organization!
Thank you for your interest in volunteering at Outside2inside for real change. Volunteers are the lifeblood of our organization, giving hundreds of hours each month so we may continue our mission and create better tomorrows for our society. This email includes all the information you need to get started volunteering here at Outside2inside. We look forward to working with you!
About Us:
Outside2inside is a 501 c(3) non-profit organization focused on reducing food waste through prevention, recovery and recycle through various creative programs. We prevent food waste through awareness programs, bringing food waste realization among the community and kids. Our Farm2School program recovers the unattractive but otherwise nutritious produce from local partners and serves the deprived, needy in our society. Our recycle program converts food waste into organic compost and animal feed serving urban households and local farms.
Outside2inside is formed by a group of spirited individuals to reduce waste, hunger and create a clean, peaceful, healthy environment. This organization is based in the Bay area, California.
Our Goal:
In the next 5 years, we want the following goal accomplished.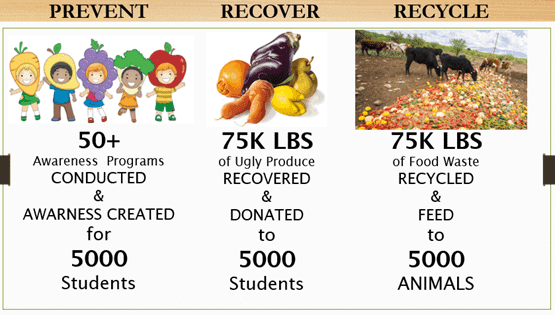 Our Accomplishments:
Our accomplishments in the last 8 years include:

How we reduce Food Waste?
How can you participate?
If just 30% of what we are wasting is recovered, domestic hunger will be eliminated. So, join us in one of the ways to fight food waste!
I hope this information gets you excited about all the wonderful volunteer opportunities here at Outside2Inside. We truly appreciate your interest and support of our programs. Our programs would not be possible without the work of volunteers like you. If you have any questions or need additional information, please contact us at volunteer_contact@outside2inside.com.
Regards,
Vijay Gurusamy
Founder of Outside2Inside 
"The future depends on what you do today." – Mahatma Gandhi